Welcome to our performance blog where the members of 'All of Us' solo quartet take turns reflecting on past shows.
1/27-28/16 @ The Comedy Studio
posted by Phil 2/1/16
January was a very productive month for the group leading up to these gigs. K Ro wrote four songs for an all new show since we've been getting sick of the old joints. We had to shed hard to get these in shape, especially because we're submitting a tape to the Montreal Just For Laughs festival. All of the new tunes are only 30-40 seconds long which I think works much better a comedy crowd. Cats just want to laugh, not listen to a 5 minute song that takes up most of the set, you dig? And the shorter tunes give me more time to kill it at crowd work, which I totally did. Andrea let us leave our junk set up overnight so we wouldn't have to load out and back in for the next show. That made the 28th a piece of cake, she's the bomb!
9/17/15 @ Improv Boston
posted by Kelly 9/20/15
It was exciting for us to perform at Improv Boston for the first time ever! The side theater was very cozy but a little too cozy for us because there wasn't enough space on the stage to setup so we had to perform to the side of the stage. If the audience was there to see somebody check their email, then this was the show for them because half of our set was just that. The computer crashed after our first song so I stood their like a dope while Kevin, the host, stalled for us. Not our greatest show but that's what you get when you entrust a performance to evil electronics. The staff was the best part of the evening because they helped us load out. Probably because they felt sorry for us.
8/28/15 @ The Comedy Studio 
posted by Cecil 9/2/15
No plane ticket necessary to make this because I was already in town for the Brooklyn job. It's about bloody time, right? Andrea Hogan, manager of the studio, asked Kelly to have us perform this particular night because it was her birthday. Bully! She is one of our biggest fans, which is not saying much, but she is a dear. 
Looking out into the sold out crowd, I spotted two muscled gits sitting in the front row. They were not laughing at any of the comics early in the show, probably because the steroids not only shrank their bollocks but also their sense of humor. Yes, they were going to hate us. I did not pay much attention to them during our set but Rick the host said those blokes actually got a chuckle. Go figure...
8/26/15 @ The Gutter for the Brooklyn Comedy FestivalClub Passim for the Women in Comedy Festival 
posted by Marty 8/27/15
It's been awhile. a long while, since we came together on the stage and it felt good. I missed the fellas. Traffic in Connecticut sure was crappy so Bergie got all stressed out about getting there on time but we were fine as soon as we hit the New York border. The Gutter was a pretty decent place, equipped with a bowling alley, bar and dedicated back room for music or whatever. Not a bad deal. The folks running the festival were super nice and supportive. Good deal:)
Overall our show went really smoothly with no mess-ups on our part. I would have preferred the audience to not be so set back from the stage so it wasn't as personal as I like, but it was ok. Some of the other comics were just gold. Nick Vatterott was my favorite. So darn good with the physical comedy thing. And this music duo "Nancy" hit it out of the park with their conviction and high energy performance. They could perform arenas, you know? It was nice to hang with Bergie's college bud Kendall the next day. We walked a ton and visited the 911 memorial, which was a sobering experience but I'm glad to have paid my respects. 
4/25/15 @ Club Passim for the Women in Comedy Festival 
posted by Phil 4/28/15
Ladies plus comedy, what a winning combo, you dig? Funny chicks are the best! I met some great peeps at Club Passim, although it felt like I was performing on the cruise ship because the median age was 70. All I could think about before the show was that they were going to hate us. They mostly did (especially the graphic "Babies on Bikes" song), but they totally dug K Ro's saxophone. 
After the show, some chooch from the audience came up and said he liked it but asked if we ever thought of doing some rap. He said that might be funnier. WHAT??!! We ARE a hip hop group bro! I was confused for a sec until I realized that our sound was probably all f-ed up again. I asked the guy if he heard Marty's drums and he didn't even know we had a drummer. I blame that shit on Passim's crappy sound check that took place during dinner. How in hell can you properly sound check while people are enjoying a nice meal...well, YOU CAN'T! Oh well, the WICF was a blast overall, meeting a lot of cool people and partying it up at the after party later on. Can't wait for next year! 
4/7/15 @ Redstar Union for Ken Reid's Member's Lounge
posted by Cecil 4/12/15
What a green room. With a rider! I rarely get excited but with the spread of cheese and crackers, veggies, expresso, beer and a working fire place made me feel like finally made it. All the other comics behaved similarly, mostly because many of those bums haven't eaten for days.
The Redstar Union is a nicely appointed spot, fit for a decent filmed performance with professional film and sound crew. It was too bad that Kelly put all of this work into being prepared for this thing and of course there were sound issues. And issues with my lower back. And the two well fit birds sitting right in front of us distracting the fuck out of me.
I can't really speak of the show because of my back and those birds. I don't have much patience for comedy so all I can remember from the evening was how good it felt to put an ice pack on my back and use my right hand to cleanse my dirty mind.  
3/27/15 @ The Space for Brian Friedland's House House Items Video Release
posted by Kelly 3/29/15
My friend Brian Friedland is an excellent pianist and composer that I met through New England Conservatory connections. He asked the band to open for his "House Hold Items" video release concert so it was a solid comedy music double bill. Brian's project is brilliant so it was really nice that he thought of us to start things off. 
I really wanted to do "Babies on Bikes" but Brian said that there were going to be some kids in the audience so I thought that might be a little graphic for them (babies heads splatting on the streets) so I settled on playing the Honey Bees song and Garbage Patch. It seemed to go over well with the crowd, despite this not really being a hip hop scene. My saxophone probably saved it for us, because it involved a real instrument for those discerning NEC majors to feast their judgement on.  
We were only supposed to do 10-12 minutes but Phil had the gift of the gab so it turned out to be a 25 minute set. I'm sure it pissed off Brian so we probably won't be working with him anymore. Thanks a lot Phil, although "working" is a relative term if there's no money in it. At least I was paid to play in Brian's "House Hold Items" orchestra. Too bad for Cecil, Phil and Marty to travel all this way for no pay. Especially Cecil, but he's used to it by now. Brian's set was amazing, both musically and comedically. The dude is a genius. Marty wouldn't shut up about about Pirate's Booty the entire night. 
3/10/15 @ the Lilypad for the All of Us Love Comedy Show w/ Kofi Thomas, Sean Clarke, Christa Weiss, Andrew Durso and Zayde Buti
posted by Marty 3/12/15
Oh boy, the snow is still around but not so much a problem after a few weeks of a lull from the busy weather pattern out east. We're going to be hosting the first "All of Us Love Comedy Show" of 2015, since the last one on 2/10 was cancelled :( boo hop! Bergie's nervous about folks coming out despite the cold temps, even though for Minnestoa, this 15 degrees is toasty. mmmm...Quiznos! 
Some super funny folks were on the show, especially Zayde Buti. He was wild and weird, in the best kind of way. Move over Andy Kaufman, check this guy out. Kofi Thomas went on last and he blew my mind with his set, dealing with some things other earlier comics talked about. He tried to bust Bergie on his comment about Africianized honey bees being more aggressive than European honey bees but data is data, Kofi. Bergie knows his Wikipedia, don't you know? 
2/10/15 @ The Lilypad for The All of Us Love Comedy Show~Cancelled due to snow!
posted by Cecil 2/15/15
The flight to Boston was delightfully terrifying. Missing two days pay for a no pay gig was just terrifying. When stepping out onto the streets of Boston, there was finally a reason to be an insufferable asshole in this town. The amount of snow was laughable. The side walks were only a foot wide, the streets barely one-way. Most parked cars were buried under 5 feet of ice. And there was plenty of yellow snow, thank you dogs and homeless people. 
When I arrived at the Hotel Haverford, Marty was in tears and Phil was punching the wall so I knew the show was cancelled. I knew it as soon as I landed, but the handle of Smirnoff 100 that I got at Logan (duty free!) kept me hopeful during the sketchy Uber ride. Sorry Ralph for ralphin in your vehicle. It had tan interior unfortunately. 
1/30/15 The Comedy Studio
posted by Phil 2/2/15
What's up peeps? The snow in Boston is crazy, but the parking gods were with us on show night by blessing us with rockstar parking right by the studio. Cambridge hadn't plowed any of the parking on Mass Ave so I thought we were screwed but Marty had sacrificed a squirrel earlier in the week back home to insure a bomb parking spot. I helped K Ro with half of the gear since Cecil was too drunk and Marty had to go shopping at Curious George for a toy for his nephew. Such chumps get negative karma points!
Anyways, Rick Canavan is one cool cat, and a killin' on point host. Better than Tom Ashbrook, dig? He brought us up like a pro, spelling it out like a national spelling bee champion so the people knew what we were about. The set went alright, but K Ro was so stressed out that he almost shorted out the computer with all of the sweat flying off of his head, spouting like Old Faithful and shit. 
Taylor, who hosted the 15th show, remembered me from the show and tried to impress me with a bad impression of a Brooklyn accent that would get the shit kicked out of him in Bensonhurst. I should have him over! Then when the bleeding stops, we'll hit up Panino Rustico. 
1/15/15 Comedy Studio
posted by Kelly 1/17/15
I received a message on Facebook for my friend Kevin Harrington on the 14th saying that he would go try and go to my show tomorrow night and I had no idea what he was talking about. I wasn't scheduled at the Comedy Studio until the 30th. But yahoo email caused a booking error with Rick Jenkins back in November so I got the chills and wondered if this was another miscommunication. Yahoo! I was about to call him and tell him we couldn't do it since the band wasn't in town and unprepared for a show in 24 hours. 
But then I thought maybe it was possible to get the band here with my frequent flier miles and not even bother Rick, who books so many comedians in a week that I don't want to stress him out more than he's already stressed. I'll just apologize to the guys and tell them I messed up the schedule. Their shitty day jobs aren't that important, so they can take a few personal days! 
Load in was smooth and I got to bitch about Amanda Palmer with Andrew Durso about how she steps on professionals to get what she wants. As if married to a millionaire isn't enough. That was a nice stress reliever before our set. 
Taylor Connelly hosted the show and didn't know anything about the band so his intro was generic, which I can't blame him for, especially since my intros for comics on the "All of Us Love Comedy Show" aren't so personal either. I usually intro comics based on their day jobs. And the sound wasn't so great that night and Phil and Marty's channels were mixed too low so it was fun to watch them mime their parts:(
I was touched by Rick Jenkins's enthusiasm for the band when having a drink at the Cellar after the show. He did say that I should have more of a backstory to prepare both the host and the audience to expect me to poorly perform different characters that play all these toys. It totally made sense to not perform full songs but rather to showcase the sketch aspects. Thank you Rick, you are right on the money. 
1/9/15 The Comedy Studio
posted by Marty 1/11/15
Hey everybody, it was our second time at the Comedy Studio and it's super exciting to be booked on a Friday night when the club is always sold out! Especially after Bergie's not-so-well attended comedy shows, it was so great to play for a full house. I think that our song choice might not have been the funniest material, but was packed full of important messages about saving the honey bees and not taking babies on bicycles. It was still pretty funny though, and even more importantly our set had a purpose!
It was great to meet Matt Chaves for the first time, he's a real hoot and it's always great to see Ms. Lillian Devane. She's on board with the whole no babies on bikes thingy. She's a smart one :) We're gonna be back to the studio at the end of the month, debuting some new songs. Bergie is not so sure if trying new material at the studio on a Friday is such a good idea, but we shall see. Bye for now folks. 
12/28/14 SOOP: Stories of Our People
Posted by Cecil 1/1/14
Quite the house party, with some interesting entertainment. Aimee Rose Ranger was such a 
gracious host with her positive energy. Well done. There was a communal soup put together by all the guests bringing in a different vegetable to contribute. Decent idea indeed.
Concerning the entertainment, comics Emily Ruskowski and Kenice Mobley told some smashingly dicey stories. Rob Crean, who I'm familiar with as a comic, blew my mind with his singing. The bloke has quite some pipes. Civil Warblers were my favorite ones of the night, they're worth checking out: www.civilwarblers.bandcamp.com
12/19/14 @ Cambridge YMCA Theatre for Cheap Seats 24
Posted by Kelly 12/13/14
 We were back for the second time at Cheap Seats for Erich Haygun's 2 year anniversary show. The show was jam packed with all kind of performers: poets, story tellers, singing songwriters, dancers and stand up comics. The show format is perfect for my self diagnosed attention deficit disorder.
We only had time for one song so we did the Honey Bee song. Somebody after the show recommended that we perform our song down the road in Cambridge at this place called Follow The Honey: www.followthehoney.com They would probably get a kick out of it.
Cecil ended up tripping down the stairs on the way out after carrying to much gear. Luckily nothing was broken but it is good to see him pulling his weight. Cutting back on the booze would have probably prevented the fall. As Marty would say, could have been worse! 
12/17/14 @ Lilypad for the All of Us Love Comedy Show w/ Mark Gallagher, Doug Fitzgerald, Christine An, Patrick Barrett, Kevin Harrington, Nick Ortolani and Adam Langois.
Posted by Phil 12/18/14
This was K Ro's third show at the sillypad. It started out really stressful with a miscommunication over start times. It's a good thing comics are so chill because our 8:00 show started about 45 minutes late. Some musicians, especially those classical cats, would not have put up with that shit. K Ro was tweaking like a concert master that night. Adam Langois was nice enough to offer him some help with the gear. Adam also took the bullet set, he's quite the stand up guy.

Pat Barrett, aka MC Young Homophobe, had a sick rap set, but I wish he had come with the right accompanying tracks for K Ro. I can't wait until the next time Pat is on the show again, I'd like to pick his brain. Mark Gallagher did a hilarious Boston townie character called Tommy Falcon, who was obsessed with Dunkin Doughnuts, it was the shit. I thought the sound effects were on point for the most part, those stock sound collection could be a bit more aggro. I hope we can figure out how to get more peeps out to the next show, you dig? It's too bad when K Ro get's some dope comics to be on the show and only 3-4 heads show up. I sympathize since I have difficulty in NY getting a crowd to my jazz gigs. I thought it would be easier for comedy but apparently not. Maybe we should book some exotic dancers to do a set, I know a lot of 
sleaze balls that would show up for that!
12/16/14 @ Midway Cafe for Guit it or Quit It Comedy Show 
Posted by Cecil 12/17/14

The Midway resembles my hometown pub Riley's so I felt quite at home to say the least. It helped that pints were half off for performers. Cheers to that bartender. It was unfortunate that we were on last in the show so I got a few too many pints in when we went up. It's a pity.

Despite my slight sloppiness, we pulled it off ok. Especially for our debut of the babies on bikes ditty. I especially enjoy the part of the song that talks about the broken bones of babies. Kelly put a sample of a cracking bone that is very entertaining. I hope the performance tomorrow night that Kelly put together will have a bigger audience than tonight did. It wasn't as bad because there were 15 monics on the show so it was a built-in audience. Maybe that's the way to do things?
12/12/14 @ Andrew Dimola's House Concert Series, Leverett, MA
Posted by Marty 12/13/14

Now this was my kind of gig. A cabin in the woods. A hike up Mr. Toby. Good deal. Bergie's friend Andrew started living in a nice mountain lodge back in September. Last year, apparently Andrew was living off the grid in a one room hunter's shack with no running water or heat. Hardcore, like my friend Buck, from Bemidji. 

I was pleasantly surprised that a nice sized crowd showed up for the house concert. Andrew's friend Greg opened the evening with some stand up comedy, he had a funny joke about sleeping like a baby. That's a stupid saying because babies sleep like crap. Then Bergie and his girlfriend joined Andrew for the first set for some beautiful originals and covers. I loved his version of Bob Dylan's "Lay Lady Lay."

Our set was pretty good, especially considering we haven't done a 45 minute set in over a month and a half. It can be pretty tiring stuff, especially for Bergie.We were supposed to premier the Babies on Bikes song, but Phil didn't have the lyrics memorized quite yet. Hopefully by the Midway show...

The best part of the evening was one of Andrew's friends came up and told me that I reminded her of the character Bubbles from the Canadian show "Trailer Park Boys." I just love that darn show and so does Bergie! I thought when Berge was getting a little pissy between songs, I got a taste of Ricky. Bergie actually said, "things are getting a bit fucky here." It was fun :)


11/26/14 @ Lilypad for the All of Us Love comedy Show w/Al Park, Anthony Scibelli, Alec Spiegelman, Matt Kona and Ronald Reagan, Boston's Premier 80's Pop Sax Duo
Posted by Kelly 11/29/14

After the first All of Us show, I was hoping for a bigger audience after how packed it was back in October, but I shouldn't have been surprised since it was the night before Thanksgiving. Oh, and there was a full blown Nor'easter going on, which is why Mark Gallagher bailed since it was a blizzard up in Amesbury. Oh well, Marty says, could be worse.

It's been interesting figuring out what comics want to do during their sets so that I can figure out what sound effects to use to accompany them. Matt sent me a video of his previous set, Anthony had a rough script, and Al gave me some broad topics. I prefer more details so I have a better chance of finding the most suitable sound effects to work. On the flip side, the more vague a comic is, that can lead to finding effects that might or might not work and will surprise the comic. I like surprise.

Alec played a beautiful set of music, including his song about Ok Cupid. He has a very unique voice that will hopefully be on everybody's MP3 player someday. Since Alec was there, our 80's pop sax duo played a few songs too. All and all, it was a great show, here's to the next one.




11/1/14 @ 

AS220

, Providence, RI w/ 

Eric Hofbauer

 and 

Hungry Freaks

 
posted by Cecil 11/4/14
Providence is an ok town, it has the vibe of being almost forgotten, then recently remembered. AS220 is a nice space and since we were on first, space was the feature in the audience. I guess someone has to take the bullet set, but if I'd known it was us then I wouldn't have gotten on a plane to play for 12 people. Bollocks!

Those 12 people were quite an audience actually, until Marty started talking about plane crashes and then lost the crowd. One would think that all of the aviation disasters that have happened lately would have steered Marty in a different direction but I guess tact isn't his forte.

We haven't done a 45 minute set since January so I thought something would have gone wrong but the set went surprisingly smooth. Kelly and Phil had a few slip ups (as usual) but never stopped a song. The jazz duo that went on after us was very interesting to listen to, mostly because I kept looking at Phil to see him making his jazz face everytime he was into something. He looked as though he wanted to take a crap, which was hilarious. The last band, Hungry Freaks, was impressive. They played complicated and lengthy songs that I had no idea how they had memorized. It was an intense experience indeed. 

I'd say the only thing that I didn't care for that evening was meeting 2 racists outside of the club. They were blasted, coming from a wedding like. These young blokes kept dropping the N word every third word. Their mums must have been complete rubbish. It was disappointing, but not surprising in America.





10/22/14 @

Savin Bar and Kitchen

for

Bethany Van Delft

's Artisanal Comedy Show


posted by Marty 10/26/14

Wow, I'm surprised that folks actually made it out to this one because the wind was gusting over 60 mph that night! Trees were bowing over and the lights in the club were flickering. Bad deal. Bethany is starting up a monthly show and this is the first one. She should have talked to the Chinese to see if they coulda done something about the weather, like they did for the Beijing Olympics:)

Despite the hurricane, there was a decent audience. The bar was really nice and spendy. We had had some problems with the software and Propellerhead Reason wasn't updating so we had to construct some makeshift sounds on Ableton. It turned out ok for the short time we had to prep. The bee song was a hoot, the vacation song was ok.

Folks kept saying how weird our set was, asking who our weed dealer is, which I didn't understand at all. I'm not into that kinda thing. And for jeez, what makes us weird? Did I have something on my face during the show or something then? Bergie seemed annoyed by their reaction but i think they all liked it because they were laughing:) Maybe weird is funny to them, don't ya know? Could be worse, they didn't hate it. 

Lamont Price was my fav with all the crowd work he did there. He kept poking fun of the fella in the font by saying that he looked like a serial killer. Hope that guy wasn't on a date with one of the nice looking ladies was was sitting next to :) 

All in all it was a good time, I hope Bethany's show takes off like an A380 with a light load and is the hit of Dorchester because she's super nice. Her mom is a hoot and has a smile that could kill a deer with kindness. Me and her need to go hunting because I'm low on bullets ;)





10/15/14

Lilypad

for the All of Us Love Comedy show w/

Cam Mcneil

,

Guitler Raphael

,

Rob Crean

,

Lillian Devane

,

Ethan Marsh

and Sausagemang Soup


posted by Phil 10/20/14

The gig was off to a great start with getting the best parking spot that we have ever scored, right in front of the venue! I felt bad for K Ro because he was stressing the f**k out so I helped him with the gear. Marty and Cecil went to get coffee like a bunch of chooches, so screw them. K Ro had some great comics booked, I recognized all of them from past shows that we've done so it was dope to be giving out a lot of high fives. La Familia! 

7:30 showtime came around and the Lilypad was like the Lilysad with empty seats so K Ro held off until more peeps came around. 7:45 it was like a coach bus pulled up just for this show and 30-40 cats piled in, who sat down in those lonely seats. We started with our new "All of Us Love Comedy" theme song, which I totally screwed up because I had 2 glasses of the pinot noir to ease my nerves. 

Cam took the bullet set, did a great job except some dudes that came on the stage to set up for their music set during his set. They were all noisy and shit, even Cam turned around. I was so pissed off, I was giving them shit. If it were in charge, I wouldn't have let those f**kers on stage, period. I'd say "the show's begun, too bad. When K Ro says 7:15 load in, K Ro means 7:15, not 8:00. Buy a watch motherf**kers because all the other comics on the show were here on time," you dig? 

Rob Crean had me play some spooky music for his set, which consisted of some achey diminished chords. That was fun, Rob is fun to work with, I dig his vibe. Us short people have to stick together, like Napoleon we can make it happen. Then K Ro pissed of Lillian by playing a sample of crickets during an intentional pregnant pause. She have him daggers, which was hilarious!

I dug Sausagemang Soup, I still think when I saw Jake and Marios as a duo back in May they were funnier but the band did sound dope. The crowd ate up Ethan's set like a plate of my momma's spaghetti and meatballs and Guitler was the killing tiramisu to finish. It was a bit too much tiramisu because Guitler did 20 instead of 10 because nobody was running a timer so K Ro got pissed because we didn't have time to perform our bee song. Like momma says, "like and learn." For the next one, somebody's gotta run the clock, run the door and collect email addresses for a mailing list. Common sense, capisce? 





8/15/14 @

The Comedy Studio

w/

Rick Canavan

Hosting


posted by Kelly 8/16/14

What a night! I was so proud to have the band perform at one of Boston's best comedy spots, the Comedy Studio! It's been a goal of ours for quite some time. Rick Canavan hosts Friday nights and books the comics for his show, so he wanted to take a chance on us. He purposely didn't want to learn much about the band so that he could be surprised at the show. This is where I was a bit concerned because we have a lot of gear and the Comedy Studio stage isn't very big. I made sure that everything would fit be measuring the stage with some gear about a month before the show and it seemed to work!

Setting up was a bit tedious with the 2 flights of stairs and as usual, I was stuck shlepping everything up by myself. One of these days those bums will help with load in! Upon entering the club, the bouncer looked at me funny and said that he had never seen a comic have that much stuff on stage before. He thought that Rick Jenkins, the manager, probably wouldn't be cool with it. This wasn't the best vibe to walk into. Luckily, Andrea the stage manager was cool with it so I set up. It also helps that Andrea's a friend of the band!

Showtime came and we were put on right after Boston great Jimmy Tingle, which was nerve wracking. Luckily, Marty's good at calming me down so I was ok when Rick calle due up there in front of a packed Friday night house. Phil wanted to start with Saxy K so I wowed them with Eddie Van Halen style thrashing on sax. Everything was going well, we were getting laughs when all of a sudden Cecil's keytar starts going haywire. His midi connection was loose so he wasn't a happy camper. He stole a beer of one of the front tables and stood there defiantly for the rest of the show. Luckily many of his parts were preprogrammed so we turned up his track. I wish we could do that for every show and fire that piece of sh*t. 

We finished strong with the old classic "Little Annoying Bird." Even though I am completely sick of performing that song, it is one of our strongest selections so Marty talked me into closing our set with it. Afterwards, there were some people that were sitting in the front row that dug our set and said we should have our own Comedy Central show so I'm going to hire them for their optimism.





7/14/14 @ Johnny D's for

Kevin Quigley

's Let's Get Weird w/

Keytar Bear

,

Herb Marple

,

Christine An

,

Uke Springsteen


posted by Cecil 7/21/14

As with the last "Let's Get Weird" show with Kevin, this one also lived up to its name, yes indeed. The weirdness started out on our part by showing up 20 minutes before the show started. I would have thought the show was going to start late like every show but this one had to start on time, like a train in Japan. We barely were ready to go, and had no time to tidy up the wires with the black sheet so our gear looked like crap. What was Keytar bear going to think? 

One would think that a local celebrity would bring in a thousand covers to help cover my airfare but only 10-12 ugly and sad audience members showed up. Hopefully the ones that recently attacked Keytar Bear in a subway station weren't among the crowd. 

This fit bird Christine sang a few songs with Ukelele and was quite good. She was shy with a dry and unflashy sense of humor which i quite enjoyed. This bloke posing as Bruce Springsteen with another ukelele did some boss covers and was flashy to counter Christine's set and played that toy of an instrument well enough. The bear came on last and was smashing indeed. I have no idea how he played the keytar with those oversized bear claw gloves. Funky material, some MJ. I'd like to find those rotten mugs that punched keytar bear and gut them like a fish. I'm not sure how one guts a fish, but I'm certain Marty can show me. Us keytarists need to stick together, right? 





5/12/14 @

Cambridge YMCA Theatre

for

Cheap Seats

17 "Manic Monday"


posted by Marty 5/15/14

Ok, so this was one of the neatest shows that I've ever been to. I've gotta talk to the Reif Center for the Arts back home about this kinda of thing. It was a bunch of 5 minute acts that were set up in a circle surrounding the audience that went back to back. I heard standup comedy, poetry, storytelling, beat boxing, along with all kinds of music. The host, Erich Haygun is super supportive and positive, what a good guy:) Bergie met some cool dudes that he wants to collaborate with on a show soon, which would be a hoot!

This is our kind of crowd, they really liked our set. Maybe it was because I wore my new hat that says "Got Fish?" which is like the "Got Milk?" ads. When mom saw that hat for the first time, she laughed through the weekend and missed the deer opener, so it was probably the hat. 

I hope to come back to do the show again, mostly to catch the variety. I love variety, kinda like the variety you'll find at the buffet at the New China Restaurant back home:) mmmmm, crab rangoons...





5/11/14 @

Johnny D's

for

Ken Reid

's

Member's Lounge

, featured at the

Women in Comedy Festival 


posted by Kelly 5/11/14

This was the most fun I've had so far at a Member's Lounge show, largely because some comics sent me their power point presentations prior to the show so that I could download specific sound effects to use for their bits. Juilie Kitiyama did her presentation on a secret BBQ recipe, where I learned that her rib recipe, like most rib recipes, was from a pig. After triggering a moo sound upon the ribs on a grill slide, Julie called me out on it, which got some laughs. Yes, I'm an idiot.  

Mehran did his Mother's Day presentation on boobies, which we had so much fun composing the segment music for. I don't think some of the mothers in the front row appreciated Mehran's sense of humor, but he didn't care since he mother tried to poison him as a child. It's probably payback!

I'm excited that we're all sticking around town for a show tomorrow night in Cambridge. If you catch this blog in time, come out to the Cambridge YMCA Theatre for Cheap Seats, a smorgasbord of music, comedy, poetry dance and storytelling. This seems like the perfect show for my ADD.





4/9/14

Member's Lounge

w/

Ken Reid

,

Niki Luparelli

,

Nate Johnson

, Rachel Reid and

Lillian Devane


posted by Phil 4/16/14

Man, it was a crazy show, lots of slide presentations, almost like back in school. K Ro was having trouble finding the right samples to go with what the comics were saying, which was funny because that cat was trippin out with stress. Marty and I were having a ball watching K Ro flip out. 

Lillian Devan's food presentation was funny, talking about how people are so aggro about tweeting and instagramming whatever they're having for lunch. We all just need to chill and put down the f*cking phones. 

The best part was that Ken Reid had a master lego builder on the show, Ian Coffey. We wrote (I wrote) a theme song for Ian that was epic! Every time, even when Ian was off stage, K Ro would trigger "He's a master lego builder!" It has dope. I bet the next time will go even smoother and we'll get more peeps out with some cheddar, you dig? $$$ mo money $$$





3/24/ @

Johnny D's

for

Kevin Quigley

's Let's Get Weird 


posted by Marty 4/1/14

Wow, what a gig this was! It definitely lived up to its name when Kevin the host ended the show by setting himself on fire while thanking everybody for coming out until he lost consciousness. HAHAHA, gotcha! Happy April Fool's Day! lol! Look at the date I wrote this dummies ;) 

My fav was on the show, Herb Marple. He makes me feel so uncomfortable, it's a good time. You never know what's next with Herb. He looks just like Bubbles from Trailer Park Boys too!

Johnny D's is ok, although this guy thinks it's not as intimate space as this show deserves. Too much dead room and dudes sitting at the bar carrying on about such and such. Oh well, could be worse, at least the bar's not so close to the stage so we're not drowned out by Red Sox scores.  Looking forward to playing the next weird show, we're booked in July with Boston's famous Keytar Bear. Hope to see Cecil and the bear have it out in a battle to the death fight. The bear is apparently used to getting punched in the face so maybe Cecil won't do so well. We shall see...





3/19/14

Milky Way

for

Al Park

&

Alingon Mitra

's Extra Helpings Comedy Show


posted by Cecil 3/21/14

The only thing I enjoyed about this show was the proximity of the club to Kelly's flat. No offense to any of the comedians on the show, I'm sure they were funny enough, but I was too busy seeking attention from some well fit birds at the bar in the other room. The only attention I did receive was from the bar keep, who ended up throwing me out for trying to scam him for a pint. This is comedy, I don't make enough quid to pay for a bloody drink! I ended up catching the last few comics through a fogged up window out in the cold of the winter night. Bollocks.
2/27/14
Member's Lounge
w/ 
Ken Reid
,
Kelly Mcfarlen
,
Nate Johnson
posted by Kelly 3/2/14
Back at Johnny D's for round two of the Member's Lounge show and I felt a little more confident heading into this one with an idea of what to expect. Ken was more interactive with the band this time, especially with Marty, even though he seemed to creep Ken out.
Phil was nervous and had some issues with stuttering, which Cecil took full advantage to point out.
It's still tricky to time sound effects that will contribute to the punch lines jokes instead of interrupt them, but I didn't seem to piss anyone off. It would help to have a better idea of each of the bits so I know what effects to have ready to go. I also have to organize my Novation Launch Pad a bit tighter so I can get from the segue songs to the effects quicker.
We will be meeting with Ken toward the next Member's Lounge show to talk about how to tighten things up. Hope it will be even better!
2/1/14 Lilypad w/ Johnny Butler & Kassa Overall
posted by Marty 2/5/14
Well, it was sad to say goodbye to Johnny and Kassa after the last gig on tour :( It's been a really neat double bill that I hope we can do again sometime soon! We've played the Lily pad several times before since it's the hip place to play in the Boston area but this Saturday night was low attendance so the place didn't seem that hip unfortunately. (Kelly really stinks at promotion)
It was really nice to see both Stanley and Jackie, Kelly's friends that have been fans from the beginning. I also recognized Mike from several shows before so we had to have a beer to catch up afterwards. The show went as most shows do when you've been on tour for a bit: kick ass! (my mom's favorite saying) Hope to keep things rolling forward with some more kick ass shows! Over and out.
1/31/14 Green Line Cafe w/ Space Whale Orchestra, Johnny Butler & Kassa Overall
posted by Cecil 2/1/14
Back to Philadelphia after our last show in September and it's ok to be back. Even before the gig, Kelly botched the location of the gig which was just slightly amusing. Lucky for us the gig was only 4 blocks from where Kelly originally thought it was, so it wasn't the shit show that it could have been.
Kyle Press, who put together the show, was a nice geezer. His band "Space Whale Orchestra" played seem really out shit, which was just what the doctor ordered, after listening to smooth jazz for the last hour of the drive from Boston. Johnny and Kassa put on quite a good set, their last song "Simon Says" was my personal favorite. Well done mates!
One of the best hangs commenced after the show at a small joint across the street, where the band had a round of old fashioned cocktails on Kyle's recommendation. Excellent choice although Kelly insisted on still ordering his regular gin and tonic. We all went back to the hotel and drank some more as we watched this stupid flick "Hot Tub Time Machine." Waste of time, but not if you're too wasted to care!
1/30/14 Member's Lounge w/ Ken Reid @ Johnny D's
posted by Kelly 2/1/14
Ken Reid gave us an amazing opportunity to be the house band at his new comedy talk show "Member's Lounge." We had to compose a theme song for the show in addition to several play on/play off songs for each guest and their segments. I felt right at home since I can fire out a ton of short, weird and funny material easily when I don't have to develop it into a full song. Phil was pickier was the writing process so it took a little more time than I would have liked.
The easy part of the show was playing our songs. We knew the material well but the challenge was interacting with the guests. We downloaded 25-30 sound effects in the hopes of accompanying a punch line or awkward moment but it was difficult to know when it was appropriate to trigger a sound and what sound to use. I was on edge the entire time, I don't know how Fred Norris does it! This show will hopefully be a monthly thing so next time should be a little bit easier.
1/29/14 Manhattan Inn w/ Johnny Butler & Kassa Overall
posted by 1/30/14 Phil
Brooklyn gigs are the best! Mostly because I can take the train to the gig, but also, NY audiences seem to get a kick out of us the most. The staff at the Manhattan Inn were very friendly and the burger was killin. Beautiful room to play in too.
Tonight's show is the first one in a mini tour that K Ro and his Oberlin college buddy Johnny Butler put together. Our set, with the premier performance of the new updated "Garbage Patch" song, went very smoothly. I could tell that the audience understood much more of the lyrics compared to our previous version. Hopefully Captain Charles Moore will dig it too.
Johnny and Kassa's duo set had some crazy good trax. Kassa's pocket on drums was slammin' and Johnny kept things interesting on the horn along with effects. This duo was the perfect double bill with the solo quartet considering the vibe and inclusion of electronics. Ableton Live should be sponsoring this tour!!
11/23/13 Grandma's Basement w/ Nate Johnson hosting
posted by Cecil 12/15/13
Sorry about posting this a bit late – it's because I wanted to forget about this night completely. I didn't even think it was warranted to post anything because nothing really happened. We just took a big shit on stage, said thank you very much and then exited the "stage" area. Talk about embarrassing!
The bloody headset mic was un-operational so the our whole performance was null and void. Kelly started to do a little melt-down shtick to explain the technical difficulties which I wish he did longer because Marty was the butt of all the blame. Poor Marty didn't do a thing but I just like to see his face turn red, red as a cherry. Oh well, the score in the end was: computer 1, us 0.
10/29/13 Radio Bar for Weird Comedy Night w/ Kevin Quigley
posted by Marty 11/4/13
Well I almost felt back in Minnesota for this one, it was such a homey feeling! The vibe of the basement of Radio was just like the Grand Rapids VFW minus the lovely sounds of Sam Miltich's sizzlin jazz guitar. (Sam plays there every Wednesday night!)
Kevin Quigley put together a show that most certainly lived up to its name, weird! The stand up comic opening was the unweirdest part of the evening(is that a word?) The punk duo Osama Bin Reagan was an absolute hoot, they should make it a trio and have some kind of bin up on the stage with them. Maybe a recycling bin, or tupperware? Best was when the lead singers testicle comes whipping out of his shorts, oh dear! Glad mom wasn't there.
Herb Marple (aka Dennis Hurley) was also a complete weirdo on stage, I'd love to invite him to thanksgiving this year to really make things weird for the Doty fam. (that was a joke, it is already pretty darn weird, lol!) Dennis is a great actor, not just because he's an albino. Kudos to pulling the extra weird off there, bud. Until next time kids...
9/20/13 Underground Arts for Philly Fringe Fest Cabaret after hours
posted by Phil 9/25/13
Man, this gig was fun, but it almost didn't happen. We were called up unto the stage while the host talked with a local Philly DJ so we could boot up the software and plug everything in. After the first attempt, the digital interface wasn't being recognized by the computer so Marty recommended a shutdown and restart that usually fixes the problem.
Looking over at the sweat beading up on Kelly's forehead, I could tell it didn't work. Then the host looks back at us with a "are you ready yet?" look on her face but she also noticed the look for horror from Kelly so kept going with her shtick.
2nd attempt = more sweat from Kelly
3rd attempt = uncoherent mumbling from Kelly + very coherent swearing from Cecil
After the 3rd attempt we had to do a full system restart since the host had gotten into a longer bit so we had the time. She saved our asses, thank you much and sorry I can't remember her name..
9/5/13 Private concert Milford, CT
posted by Kelly 9/8/13
I was very excited to be able to bring the band down to perform for my 92 year old grandmother Fran. It was worth paying everybody entirely out of my pocket, and Cecil an extra $20 to not swear. (which I will dock him on the next gig since he dropped several F bombs)

Grandma told me after the show that she didn't understand half of it, but she enjoyed it. She said I was very talented. She also took a liking to Phil, who was definitely a grandma's boy that night. Phil ending up getting into an arm wrestling match with my uncle John, but lost miserably. My aunt Joan kept doing impressions of Marty, which annoyed Marty a bit since she was overdoing the Minnesota accent. Oh well.

It was nice to perform for Dan and Noreen Beach, my aunt and uncles' friends. Dan is the most passionate music fan that I've EVER met. Music is a drug to him. He's an addict. Good thing his daughter Jess is dating an awesome musician, Casey Gorman. Thank you Milford, see you next summer!!
8/30/13 The Space w/ Ronald Reagan, James Patterson, Dan Boulger and Brian Friedland and his Household Items Superband
Posted by Marty 9/2/13
Hey there everybody, just got done with a nice Labor Day cookout with mom and my brother Ryan and his family. Boy is my tummy's super full! Mom's hotdish does it to me every time. Anyhow, about our show in Boston last Friday. Seems so long ago after all the mess of getting back here over the holiday weekend. Could have been worse though...

It was a fun show, especially that sexy sax boy duo Ronald Reagan! (I've gotta put in a good word for the boss, don't ya know?) James and Dan are always a hoot, I've met them several times but they still call me Kelly. Silly boys, I know we look a little alike but not that much!

Brian was quite the character, in a good way! He had on a funny hat and was even more awkward than Alec Spiegleman on stage. That's really awkward, also in a good way! Such a talented composer too. Hope to work with that fella again soon!


8/23/13 Midway Cafe w/ Lovewhip and Zagitarius and Amanda
posted by Cecil 8/27/13
Well, this was a fun gig, mostly due to the drink specials. I can't quite remember the whole evening except a little bit early on. I guess our set went alright since Kelly didn't cry or chuck a toyah.

The other groups were pleasant to listen to, especially lovewhip and their groovy beats. The arse shaking on the dance floor improved the scenery nicely. Lovewhip was playin their music video on the screen above the stage and it almost gave me a seizure. Really bloody intense, like. Or maybe somebody slipped something in my drink. The lead singer was well fit though.

Towards the end of the evening, Phil and the door supervisor got in a tiff over how Phil was handling a lady, I guess he was a bit touchy. 
8/12/13
Underground Arts
w/
Wittchen Initiative
,
Ronald Reagan
,
Darren Finizio
,
Upholstery Con Senor Papos
,
Neon & Shy
and
Extreme Fishkin
posted by Phil 8/19/13

Philly! We had a good time in the city of brotherly love. Started out down at Pats and Genos since Marty kept bugging Kelly to stop and see what all the noise was about. Kelly, Marty and I were man enough to try a cheesesteak from each place while Cecil had a cucumber wrap across the street. What a pansy. Without a doubt, Genos and their provolone put them at the top. Marty insisted that Pat's and their cheese whiz was the best but I don't think of that chemical shit as cheese. It's probably a midwest thing.

We were on early in the show so Cecil couldn't get too hammered during our performance so it went pretty good. The sound guy was real nice to us, I wish that had been the case for the dude Darren after our set. This sound guy was apparently offended by Darren's content so he cut off his last song which isn't cool at all. He should stick to his job running sound, not voicing his opinion, you dig? Darren was f***ing hilarious, keep it up bro!

Extreme Fishkin and Wittchen Initiative brought some bumpin sounds to the stage that were unique and edgy. K Ro's sax duo, Ronald Reagan, brought the dance party to the floor and mixed up the crowd a bit. Thanks very much Philly!
8/5/13
Muchmore's
w/
Ronald Reagan
and
Father Figures
posted by Marty 
I thought I'd see more hipsters at our show in "Billysburg" but I guess they were too hip for us. It's ok, because they didn't serve PBR at the bar anyways...

We knocked our set out of the park, and then almost knocked our gear off the stage during breakdown. Phil and Cecil had a little game of tug-o-war with the midi cables that resulted in Kelly having a little hissy fit. Good times in NY!
Now I used to be a guy that couldn't stand 80s music but when I heard two saxophones play these tunes, it's a completely different kinda thing. I almost had to beat it in the boys room after hearing their version of MJ's "Beat It." That Alec and Kelly are a funny bunch of guys. Alec looks unhappy sometimes though...
The last band and headliner, Father Figures, really blew my mind. It was like the Ronald Reagan thing, but better with a rhythm section. Oh they don't do the 80's music, but they do blend jazz and rock together like an expert bartender, or mixologist as they say here in the big apple.
8/1/13 Lizard Lounge w/ Ronald Reagan, Joseph Keckler, Evan O'television and Mehran Khaghani hosting
posted by Kelly 8/2/13
I was really excited to play the Lizard with this group, being the biggest music room we've played so far. I was excited for Evan O'Sullivan to see our set after I took some of his advice on a tighter presentation for the band. Evan is a master of timing and interacting with pre-recorded video so I always love watching and learning from his sets. Tonight he debuted his new "lecture" style show, changing up the feel a bit.
Joseph Keckler's set was something special. He sang an operatic song about taking mushrooms at a party, along with subtitles on a projector. Hilarious. Real nice guy too. I kept thinking, "shit, we have to go after this!"
I felt ok about our set, though I realized that we should have been set up further back on stage for more visibility for the audience sitting off to the sides. I feel those people didn't get any of the visuals which are a big part of our show. Oh well... At least Joe Stewart (sound guy), made us sound good. I wish we had a digital interface with more outs so that Joe could have had more control of our mix since he's a really good sound guy. Oh well, next time (which means we'll wait until the M-audio breaks)
This show is the first of a five show tour with Ronald Reagan. Alec seems excited. He and Cecil don't get along very well, mostly because Cecil keeps pressuring him to drink more and Alec isn't one to get sloppy. It's ok because Mehran stepped in Alec's place.
7/18/13 Clown Tears and Gourmet Beers w/ Tyrone Jones hosting
posted by Cecil 7/22/13

Unlike this show that featured thirty-two comedians, my entry will be brief. I'm not complaining since it was quite nice to spend most of the evening with a bunch of rowdy fellow alcohol enthusiasts. Met some real funny blokes. By the time of our set (a 4 hour wait) I was much too sauced to be accurate or even close. Bollocks! At least I had fun, thank you Tyrone for having us gits.
6/17/13 Extra Helpings w/ Al Park hosting
posted by Marty 6/25/13
It was nice to be back in Massachusetts after doing a ton of great fishing back home. We got in nice and early for a quick load in to the Milky Way bar, now that Kelly had a not-so-nice talk with us about helping more with the gear. This super nice guy Al hosted the show and brought out a real nice crowd.

Our set went over really well with the audience! I thought the new way of doing things was starting to pay off. It helped to only have ten minutes for our set so we tightened a lot of stuff up which helped our timing quite a bit. Cecil was a bit sloppy on the bird song, mostly because he was tipsy :( 

I had a real nice chat with this fella and comedian Tim McIntire, who used to be a reverend, or at least that's what they used to call him. I'm not one to talk bad about anybody, but Tim would be better than our pastor back home. Pastor Ann's getting on in her years and is starting to repeat herself. Could be worse though. 
5/31/13
Grandma's Basement
with Ryan Donahue hosting
posted by Kelly 6/2/13
I never thought our 26th performance would have started out so much like our 2nd disastrous show back at the Haverford Music Fest in 2010. Comedian Ryan Donahue introduces us while I'm desperately trying to figure out why there is no sound coming from ANY of our instruments. Not a peep. Just the four of us looking around like a bunch of sweaty jerks.

We had to leave the stage to keep the show going so we shuffled out into the back hallway and Ryan is there wanting to give us a second chance. I wasn't sure what was wrong with the gear but looking over at Cecil, who had travelled particularly far, I had to try and fix the issue. Ryan was very cool to let us on again.

Like most electronics, 99% of the time all you need to do to fix it is turn it off and on again. I had done that the first time but the second time it fixed the issue: the digital interface. Since I had closed my laptop over, the system went to sleep which the interface didn't appreciate too much. After restarting the system, everything was good. Crowd especially seemed to get a kick out of the little annoying bird. Thanks Marty for pulling that off quite nicely. Special thanks to Ryan Douglass, Ryan Donahue and Ryan Fessinger for helping us(me) load in. I do wish the other guys would help out more!
5/15/13
Middlesex Lounge
 @ JM Rodney's Medicine Show
posted by Cecil 5/20/13
Performing at a comedy show is quite a different scene for us gents. We went last on the show so there was no way around throwing back a few brandies to ease up my nerves. Thank god for that because I was uneasy as to what folks would make of it all, especially if they just want to laugh, not sit and listen to bloody music.

Well it's a good thing my keytar fell apart during the bird song because that got quite a laugh. Not from me, mind you. That stupid piece of mechanized crap is made for kids, not an accomplished bloke like myself. Oh but Kelly thinks the yamaha is better than the roland for travel-yeah but life shouldn't always be about convenience now, should it? He's such a lady, doesn't want to break a nail on the load-in. Bollocks!
5/4/13 Redtail w/
Three Red Crowns
,
Amy Danse Macabre
and
Jaggery
posted by Phil 5/5/13
My favorite Boston venue yet: Redtail! An easy 10 minute walk from South Station so I took the bus up instead of taking momma's car. The only catch was the 7 flights up to the venue, glad I was late for the load-in. Cecil and I almost got into it when he wouldn't shut up about me not helping lug the gear up all those steps but I found out from Kelly that they loaded in with the freight elevator. He's such a punk.

I dug the space, the stage was huge. Big props to the sound guy Joel. He was top notch, too bad we were in mono and not stereo, this guy coulda worked some magic panning. Yet another thing the group has gotta work out, know what I mean? Besides that, this was honestly the smoothest of the nine shows I've done with the band. 95% on point. The crowd got it, people were cracking up and having a good time. I even got a few ladies numbers - now that's what I'm talking about.

The other bands were real good, "Three Red Crowns" brought a string section that destroyed the 'All of Us' strings! Really neat set, it's too darn bad they had to drive back to Baltimore after the show. I didn't get to catch Amy's short set because I stepped outside during an electrical fire happening on the next block so I had to investigate. Those the fumes were bad!

Jaggery finished up the night was a kick ass set. Mali, Jaggery's singer, seemed like she had a 10 octave range. Off the hook!! Cool instrumentation with the viola and harp, and jazz infused bass and drums. I think Kelly plays with the drummer Daniel and bassist Tony. Great players, and chill dudes too. While the evening was wrapping up, I noticed Kelly and his girlfriend Ryan looking at a painting that this artist Kristilyn did during our set. Holy cannoli, it was the spitting image of our band. I think Ryan is buying it for Kelly. Hell yeah, thanks very much Kristilyn!

Check out the painting: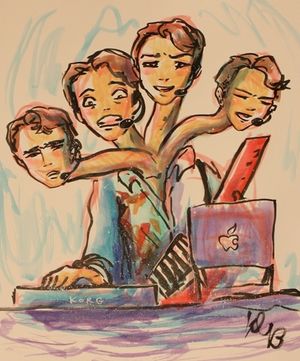 4/25/13
Chianti Tuscan Restaurant
w/ Five Points Brass Gang
posted by Marty 5/1/13
I wasn't so sure about Beverly, Mass and the crowd it would attract for our show but I was pleasantly surprised to find such nice folks there. It didn't hurt that Chianti had great food too. Decent Italian food isn't something I'm used in Northern Minnesota, since the closest decent place is all the way down in Duluth! The guys in the band kept busting my balls for not saying the names of the dishes right. It's ok because Phil can't get through a sentence half of the time, and I never can understand Cecil, so it's no big deal really...

So...there have been some BIG changes in how "All of Us" runs our shows. We've made remarkable improvements to the flow and accuracy that have allowed us to get into our parts more freely. I've been playing some nasty fills that really spruce things up. The in-ear monitors were the only complaint that I would file, especially the levels. Kelly's vocals burned a hole in my ear drum during the brownie song, but he's working out the kinks for the next show, which is only a week away!

The Five Points Brass Gang set was the highlight of my night. This is a band with so many talented horn players, I should bring some of 'em back to Minnesota. We don't see horn players like that too often, don't you know? Especially the tuba bass player, Dave. Wouldn't it be great to replace Cecil with that guy? Hehehe, just kidding Cecil.

Our booking agent, Johnny Booking Agent sat in with the gang as Johnny Bebop, and boy oh boy could Johnny bebop. Super good. Mike the sax player, burned down the house(figuratively of course) along with Tom on drums. Tom's a cheese head but I won't hold that against him too much since he's so good. I should take a lesson with him! One of the trumpet players, Yaure, told Kelly that we were one of the most unique bands that he's ever seen and heard. Never saw Kelly smile after a show like that, he's usually complaining about all of the issues we need to fix.

Last but not least, Chianti's manager Rich was such an amazing help to us after the first set. We had to load off the stage so quick that some wires got caught on our table stand and if it weren't for Rich's help, our table would have easily flipped over. Much thanks to you Rich. If you're ever in the Grand Rapids area, I'll be sure to get you out on the lake for some good fishing.
1/10/13 Lilypad w/
Colin Stack
posted by Kelly 1/20/13
Happy 2013 everybody! Our first show of the year was o.k. but really under rehearsed. This was mostly my fault because I've been so busy editing and producing both Marty and Phil's videos. The guys were pretty understanding, except for Cecil because he doesn't have a video out yet:(

My good friend Colin performed his set first, which always gets better and better every time I hear him play. His song "Clay County" would win him any girl that he plays it for. Too bad there were no single girls at the Lilypad on the night of the show:(

For our set, since I've been so entrenched in video world, I thought it would be fitting to perform Phil's "Keepin' It Local" song. Due to the lack of preparation, we performed that song mostly in a pre-recorded state, rather than looping live. Although it lacked the comedy of the screw ups, this could be a great way to function in future shows. We need to find the perfect mix between prerecorded loops and live playing to make our set really tight. Onward and upward!!
11/18/12
Toad
posted by Phil 11/21/12
Hey everybody! Hope you all are having a great Thanksgiving. Me and momma cooked up a nice bird. The show last week woulda almost been perfect if Cecil didn't lose his cool and f*** up the bass line. Several times. The crowd was diggin the issues though, maybe that's why we've got all these comedy gigs. Personally I'm more into making music, not the funny biz, but I don't run the show, know what I mean? At least we're back to playing on our own axes, instead of piggy backing on that stupid little Keytar. I didn't realize how much I was missing my ivories! :) 
9/5/12
Brewed Awakenings Coffee Shop
, Grand Rapids Minnesota
posted by Cecil 9/21/12
The folks in Minnesota were alright in my book. Very welcoming, which is something I'm not so used to. Maybe it's because me mum treats me so bad. Bullocks! Anyways, about the show. I've never quite wanted to crawl under a rock and die as much as I did after this show. That crappy keytar, that we had to share again, ruined it!  But since Kelly's too bloody cheap to fly the gear out this rubbish happens.

Once again, this configuration does NOT work in the least bit. And for the 2 folks watching in the coffee shop (Marty's only friends, I image) I apologize for not being able to give you back the half hour that we took from your lives. The girls running the place were sharp enough to retreat after the first song. THIS would have been my last gig if it not for Kelly promising this would be the last show sharing the keytar. Let's hope so or it was nice knowing you all! 
6/24/12
Toad
posted by Marty 6/25/12
Well what a hoot this show was, particularly since the last show at Toad in May didn't go so well. It sure was super to be able to redeem ourselves with a great performance. If I could say so, I'm still not quite sold on the Yamaha SHS-10 for the band though. It's a bit cramped up there, especially for poor Phil, who can't seem to grasp a decent control of the mini keys. Bad deal. Maybe I can talk Kelly into getting back into using all the gear again, we can do way more stuff with that kinda rig anyways. Not so good for the stand up comedy, but this guy here isn't so funny anyways. Whatever.

Looking on towards the summer, I'm really excited that the guys just bought plane tickets to come and perform in my hometown of Grand Rapids Minnesota. Sure is great that all my friends get to finally hear us play. I've been already talking up the show. Mom's excited too.
5/20/12
Toad
posted by Cecil 5/22/12

I don't especially enjoy being portrayed as the irritable one but unfortunately this entry will not help that. To put it lightly, the set was bloody terrible. Bullocks! That stupid keytar Kelly bought for the stand up comedy thing is well intentioned and all, but not functional to share between the four of us. PLEASE!

That didn't excuse the full-on tantrum Kelly threw after the damn keytar got unplugged and deprogrammed when Marty, that idiot, stepped on the quartet inch out. Kelly then proceeded to shout at the crowd, whining about all these bands he plays in that go nowhere. I can't quite remember specifically why they go nowhere, but it had something to do with bandmates having naggy wives, kids or crappy day jobs to keep them from the road. Poor bloke. He started losing me when he mentioned this being the reason he prefers to play alone and why he started "All of Us." Kelly's definitely a bit off. Phil, Marty and I had a little chat about this after the show and we're planning on having a meeting about this. The poor geezer.
4/27/12
YMCA Family Theatre
show
posted by Phil 5/2/12

Hey, what's going on 'All of Us' peeps? This my first blog entry so please forgive me if it ain't the best piece of literature you have ever read. Then again, some of the other members of the band maybe aren't great writers either. Now let's talk about that show last week. We had some good moments, some not so good moments, but overall it was alright. I felt bad for the boss though because he had all these camera dudes come to film, so the pressure was on us to do good. When things didn't go so good, especially with that new launchpad thingy, Kelly got a little snippy. I gotta say it's pretty funny when he gets like that. Cecil on the other hand, I've gotta problem with when things get rough. He gets all personal and likes to drop the F bomb. You know I'm no saint but I try to keep it professional up there in front of the people. Maybe gets me a little something for later, you know what I mean ladies?

Maybe not the best idea to have this new toy with no time to practice on it before on a big gig. I gotta hand it to Kelly for going for it, I don't have the guts. I do think we got some good stuff on camera. It's tough to see Kelly bummed out though. He should lighten up, it's all supposed to be fun, right?
The discovery of the
Novation Launch Pad
!
posted by Kelly 4/25/12

It's two days before our biggest show ever and there's a ton of pressure to make things go smoothly. The Quartet of Happiness has hired a video crew to film both their set and our set. Video CREW. Not just my little dinky handycam on a tripod, but five to six video cameras focused on all of the things that could possibly go wrong.

Yikes!

To make sure things go smoothly, we've been rehearsing for about three hours a day for the past two weeks and things are coming together musically quite well. The only snag is a technical issue regarding midi key maps. For example, to trigger the chorus of "End of the World" in Ableton Live, Marty has to type in "ZXC1" a few beats before beat one of the next measure; verse one is "FGH3." Sometimes he will mistype the command or not get to it by beat one, but I can't blame him if he's also preparing to record the drum beat of the next measure.

We need a solution!!

I tried to use Stan Durd's Monome64 to use to control the interface on Ableton Live but the controller buttons were a bit too small for accuracy. If there was only a product with larger, more accessible buttons that could work specifically with Ableton, Marty wouldn't have to worry about the cumbersome midi key mapping codes anymore. Launchpad by Novation was our answer. After a quick trip to Guitar Center, the problem was solved! Behold, Launchpad by Novation: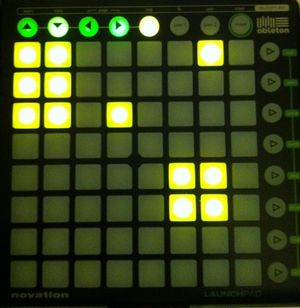 Notice the 8X8 grid and how the interface of the controller correspondes with the Ableton Live interface on the computer, pictured below: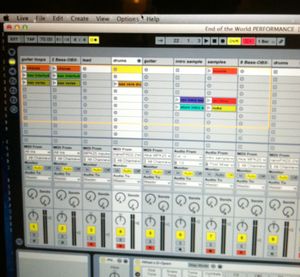 These are all of my prerecorded samples on "End of the World" that can be triggered at the push of a button on the Launchpad. We can also trigger samples to be recorded that can be triggered again later in the composition. Cool!

Even though we only have two days to learn how to work the Launchpad I feel like it has made things ten times easier. With those lengthy trigger codes consolidated down to single buttons synched with the interface, we can do this! Having an extra week to become more comfortable with Launchpad would have been ideal but now we've just have to go for it. Cecil seems to be the only one with reservations about the last minute equipment upgrade.
11/18/11 @ Lilypad's Parlour Night
posted by Marty 11/24/11
First off, I'd like to thank Dan, Andrew and Chris at the LilyPad for helping us (mostly me) take all of the gear inside. For some reason Kelly doesn't like to park the car so close to where we load in, but since he doesn't have to do the work, the son-of-a-gunner doesn't really care so much about it then.

Anyhow, this show was funny! Lots of laughs, which I guess is a good thing even though it wasn't planned on being that way. Kelly's family was in the front row so I think he was a bit nervous. I've never met any of his family before tonight, but his cousins seem pretty cool.

It was sad to see Stan go, but I think Phil new the fella is a much better player. He did go kinda freaky when Cecil got angry at Kelly. Poor guy, not a great way to make the rookie feel welcome and comfortable. If I can say so, I think Cecil has an anger management problem. Whenever that darn keytar of his gets transposed, his turns as red as the thing! Ever since he stopped drinking he's been more difficult. I hate to say that I almost wish he'd throw a few back before the gig, it would be better for all of us, don't you know?
10/30/11 @Lilypad's Evening of Terror w/ 
Claire Davies
!
posted by Cecil 11/1/11
Ok, listen. So many bloody things went wrong, I don't want to even mention it. The birds song, we didn't even make it to the first verse before the entire thing crashed. Some crap Kelly programmed last minute threw the looper off so totally it was a f***ing mess. So much for my bird debut—bullocks!

At least Saxy K came through, sort of, despite all the me, me, me nonsense . A shame it has to be that one, because the next and final song was a total disaster on my end. The stupid, f***ing, piece of sh*t keytar had to completely screw my patch up by making every note sustained. NOT A FUN MOMENT.

Claire is a doll, a pure pleasure. Well fit too. The monster mash went off well, I must say I had the best verse. I don't even know why they don't let me sing more. Really!

The 26 song was interesting. The boss as it turns out, had a shortage of lady friends growin up to say the very least. Said some illuminating stuff. Claire's verses made me teary, I related to the stuffs she was talking about. Guess we do it all again in a few weeks at the lilypad, I should just stay in the states, mum won't even know I'm gone.
8/19/11 @
Lilypad
's Parlour Night
posted by Stan 8/22/11
Parlour night at the Lilypad is a good night to be there since the bar really picks up its business, from what I've heard from Kelly. The 26 hours that I spent traveling to get to Boston from Singapore was well worth it with one of our best crowds yet! I could tell that Kelly had many friends there so he happened to be a little on the nervous side.

With an hour set, there's a lot of music to know so our heads totally need to be in the game. Marty spent hours working on the levels so vocals were more balanced than some of our previous shows. The only problem, as Gill Aharon of the Lilypad noted, was too much reverb on some of the tunes. Perform and learn right?

The total flop of the evening was "Dramatic Pictures" for two reasons: It was too serious with no punch lines and the drums didn't project enough. The song has a powerful message but I think we need to figure out how to program it more appropriately or make it funnier somehow. Kelly still doesn't quite have the pitch down yet, but it is a very angular and jumpy melody. I guess my rapping could use some work too!

We met some really nice people from Canada were at the show and want us to come to Montreal and Toronto. I've never been to Montreal but my sister Ann lives outside of Toronto so I can hopefully we can stay with her. I haven't since my nephew Eddie in awhile. Hopefully Kelly can set that up for spring 2012!
8/7/11 @
Toad
w/
Ronald Reagan
,
Tim McIntire
,
Matt D
and
Evan O'Television
posted by Kelly 8/8/11
What a fun show. Not our smoothest Toad show, like the May 8th one. It was just all about the situation of not being able to rehearse prior. The in ear monitors weren't turned up enough so my vocals were a little pitchy in the vacation tune. I'm now super sensitive to my singing after taking Mali Sastri's amazing voice movement therapy class, as well as a private lesson with the great jazz vocalist Dave Devoe. It amazing how much improvement that I've made in a short time, but also realize how long the road to becoming a great singer is.

Hats off to Marty who laid down a nice groove for Stan's rapping. The brownie song was just silly and went over with everybody. It's an easy sell, who doesn't like brownies?

It was so amazing to be working with comedians Matt D, Tim McIntire and Evan O'Television. I learned so much. Matt's such a character (think Stephen Wright), Evan's got his Seamus character that he nails, and his TV. is one of a kind, super creative and hilarious!! Tim is a soldier that kills, especially in the first part of the show when the crowd didn't quite get the comedy show vibe. The Reverend still killed.
6/21/11 @
Outpost 186
Mike Dobiel's Living Room Series
posted by Marty 6/26/11
This month has been super crazy with working on the EP to release, so let's just say this concert wasn't as ready as the one on May 8th. If I can be perfectly honest with you folks, Kelly didn't lay so much on us for the Outpost gig since there really isn't such a built in crowd. The Outpost is a great opportunity to try out some new material which is what we ended up doing anyways. Kelly sounded just great on his newly written verses on the vacation tune, but my beat on the verse was a bit different then I wanted it to be. It could have been worse. No big deal.

Stan added some rap to Kelly's verse so it created a nice collaborative verse, kinda like Garbage Patch. Because of all the time it took to work up the vacation tune, the show was pretty loose musically so it turned into a lot of funny stuff going on between the four of us. If it's not too much to share with you, I was scared when Kelly put me in charge of all the electronic stuff. A helluva deal! Especially when you have Cecil being a jerk about just about everything and Stan and Kelly were just too concerned about the debut of vacation.
 Uffda!
5/8/11 @ Toad w/ Ronald Reagan,
Tom Dustin
,
Dan Boulger
and
Mehran Khaghani
posted by Kelly 5/10/11
All of our shows are pretty nerve wracking to perform, but none as much as this show at the Toad. The pressure was high to put on a perfect, crash-free, smooth performance for many reasons:

1.) Toad has live music every night so there's always a good crowd and they are trusting us to try something new: a comedy show!! (don't screw up)

2.) Three comedians that I have a ton of respect for are sharing the stage with us. I know we can be funny at times, especially when things go wrong, but Tom, Dan and Mehran are seasoned pros!! If our set goes off perfectly, will it be funny? Do we screw up intentionally?

3.) It's just a 20 minute slot so if you can remember the Lilypad show in February that was over an hour but only 15 mintues of music happened with all the disasters, that CAN'T be the case this time!

Needless to say the pressure is on to not suck this time. Who cares if what "I'm" doing is very difficult to pull off? DON'T SUCK!! I guess after 10 shows we can do this great, right??

Showtime: The biggest issue we had came at setup, when Marty was loading the Live set for "Little Annoying Bird" Ableton just doesn't open up! This has never happened before and before this show that we can't screw up, I was sick with anxiety. But as most all electronics are fixed, I rebooted the computer and everything was fine.

Having said before, we didn't want to screw this performance up so we spent a solid two weeks rehearsing the 3 song set, including the script of jokes and segue speaking in between tunes. Because of this hard work, I proved something to myself: 'All of Us' solo quartet CAN have a tight, successful music set without hardly any screwups!! IT'S ALL ABOUT PRACTICE. No short cuts, the show depends on the preparation. But, the only catch is the smoother the show, the less screwups, the less funny…what to do?
4/13/11 @ Outpost 186 w/
Preggie Baby and the Lazy Baby Makers
posted by Cecil 4/18/11
I love Angela Sawyer's Preggie Baby and the Lazy Baby Makers, she's full on! Her rig was a ladder with assorted rubbish laid out on each step and most of which seemed improvised. Oh, I forgot the last ditty was a tune about wanting to kill her boss or something. Talk about going for it and being comfortable with whatever. Eat THAT, classical musos! I was entertained the entire set, because that broad's energy was always there. I learned a lot about going for it and being o.k. with any outcome.

Our set went just o.k. Best part was when Stan couldn't remember the new bell intro for "Garbage Patch." What an idiot, really. He had to restart 9 times!! Talk about not giving up, I woulda smashed me keytar by then. Stan said he was inspired by Angela and her bravery. I think it was because the computer couldn't process anything short of perfect so he HAD to get it right. Bloody computers.
2/18/11 @
Lilypad
's parlour night
posted by Marty 2/24/11
I was pretty excited to be playing at Lilypad, because there was some new parlour night series going on. This fella Gill Aharon, the owner, just received a beer license so he's serving on Friday nights. Good deal.

We had a pretty darn fun show in general, with the exception of Stan's monome breaking right before we started. Yep. I'm not going to blame the monome since it seemed to be linking up with the computer o.k. but for some reason the Ableton Live software wasn't recognizing the device. As a result Stan had to switch the monome controls to the Akai and use the pads to turn on and off the monome patches. A bit tricky, and for the show he didn't quite get it right. It was a helluva deal for sure, but not your fault Stan, it was so last minute, no? So, what's a guy gonna do then?
1/20/11 @
Lilypad
w/ Black Planets
posted by Kelly 1/23/11
This was one of our weirdest setups for shows to date. Black Planets played a set before we went on and since I use electronics with BP, I set up to the side of the stage, which is where AoU performed our set. All of us ended up with similar neck problems the next morning because we all had to turn our necks to the left to face the audience.

Besides that issue, this was the debut of our in-ear monitor system. It's very cool to be able to hear the vocals and click without having to yank in and out the ear bud for tempos. I do have to switch out the ear inserts, Marty especially was complaining that they were too big for his ears. We'll work it out.

It was really fun jamming with Black Planets before and after our set. Cecil and Stan didn't join in but Marty was game. I ended up improvising some loops with effects to add some textures. Thanks for having us BP!

After the show, I received a beautiful compliment that I feel will last a lifetime. My friend's girlfriend Joanna mentioned how she loved the mistakes and how we dealt with them with confidence and energy. I was (as always) feeling bad about how much went wrong, but Joanna thought that was the best part. She told me about a Tibetan necklace with thousands of tiny yellow beads weaved into it. Such a beautiful work of art, with an intentional flaw: one green bead. To the Tibetans, it is only God that create a work of perfection, who are we to try? It is the imperfection that makes it more beautiful, although our show has a few more than just one.
12/16/10 @ Lilypad w/
Claire Davies
posted by Stan 12/24/10
Back at the Lilypad so soon after our last one, I feel like I should have just stayed out in Boston, but couldn't leave the business for that long. Kelly's friend Claire Davies, a great singer set up the show that featured many mini sets including Mali Sastri, from a Boston band Jaggery, poet and visionary Corwin Halwes and his machete, along with Claire and All of Us. A very lively local comedian named Mehran Khaghani hosted the evening, who I took a liking to, because he seemed like a go-getter like myself.

Our set was first because Mehran was coming from an earlier comedy show and was running late. Nobody wanted to go first so we took one for the team. The "Garbage Patch" tune had been reworked a little bit with better sounding patches, especially with Cecil's keytar, but some of the backing vocals were out of synch as a result. This glitch actually added to the comedic sketchiness of AoU so it was received well, especially by some of Claire's friends in the front. The only real issue with the loss was the loss of our vocal mic windscreen, which we realized was very important! The vocals and mc-ing were being interrupted by intense breathing sounds so I had to adjust the mic further away from my mouth during my raps (it's a headset mic) so it wouldn't pick up the nose wind. The good news is that Marty found the windscreen after the show. Phew!

Amanda Palmer from a Boston punk cabaret duo the "Dresden Dolls" showed up after our set, which Kelly seemed really glad for because he didn't want her to get the wrong impression about us. He keeps saying we're a work in progress and someday he'd love to have AoU play a show with her when we're good and ready. Kelly loved working with her in a local theater's production of Cabaret and especially the late night shows that she put on. Apparently she is quite the performer.
12/11/10 @ University of the Streets NYC
posted by Marty 12/14/10
New York City! The big apple. Kelly's college buddy Sam Kulik was booking some shows at this club called University of the Streets for December so he was able to get All of Us on a bill with this really neat sax player Jim Hobbs. I'm not sure watch they're teaching at this University but if you don't mind me saying so, there seemed to be a pretty low enrollment. It's o.k. though. You're darn tootin we were going to play for these nice five people in the audience like there were ten people!

The hardest part of the gig was loadin in the gear, but it was no big deal really. I thought four blocks was pretty close to the venue but four blocks in NYC is about a half mile long, about the dogleg it takes from my parents cabin to downtown Grand Rapids. Four doglegs and 45 minutes later, I had the gear loaded in. I'm not complaining, but a guy could really use some help from the others with this kind of thing. Whatever.

Kelly was so happy to have us play for his college (Oberlin College, I think) friends Moppa, Sam and Nick who have never seen the group before. Kelly was especially stressed about playing for Moppa, who he really seems to look up to. Nick was particularly impressed with Kelly's energy on stage, and I have to admit he can power a decent sized city, say Bemidji, with his stage presence. He gives it his all, that one! Thank you big apple, we hope to be back soon!
12/9/10 @
Lilypad
w/ Faces
posted by Cecil 12/12/10
'Faces' (http://music.facesthemusic.com) is this new Boston band that Kelly's mate Annika from Cabaret started with her boyfriend Jonathan. Not bad for their debut concert, they had some catchy things goin on. Marty was droolin over Annika's xylophone playing and it didn't hurt that she was a looker. Well fit indeed. And quite a nice set of pipes too. Well done band.

As our set goes, Marty was a bit tipsy from the beers so I can't say much about his playin, but there wasn't anything that bad to say about the rest of it. That geezer needs to put a cork in it, we've got to have a proper beat. Blimey!
11/18/10 @
Lilypad
w/ Saxophone in Machines
posted by Kelly 11/20/10
This was a really exhausting show for me, playing in both bands on the bill that evening. Mike Dobiel, the other half of the Saxophone in Machines duo is always a pleasure to perform with. We get the creative juices flowing for sure. A perfect way to open the night up for me, who is completely stressed out before AoU shows but SiM really chilled me out.

"Garbage Patch" went almost perfectly with the exception of one of the samples not firing towards the end. Marty took a spontaneous drum solo in the intro of "Getting Happier" that opened up the whole piece and took it a little more out of the scripted formula that we had worked out in rehearsals. It would be great to have more options to be free with these live performances!! Always more goals…always.
9/27/10 @
Oupost 186
w/ Cereal
posted by Stan 9/30/10
This was our second show at the Outpost, and I was happy to be able to redeem ourselves after the disastrous show back in July. We were opening up for Kelly's band "Cereal" with sax player Jesse Kaminsky and trumpeter Keichii Hashimoto. Kelly had everybody fly in early for an extra day of rehearsal and to work out a better setup to ensure we were not going to have a repeat of the Haverford Festival experience!

During the rehearsal prior to the show, Marty typed up a checklist of things to bring, which really helped things flow much better. As a result, the setup time was cut down to 15 minutes and we even were able to do a mini sound check before downbeat. "Dramatic Pictures" was the best performance of the night, my monome worked beautifully. Kelly and I really locked up on the vocal miming/momone samples and keyboard on the verses. I'm still not quite getting the chorus yet. Marty's beat is pretty down and dirty over it.

Some folks from the audience did comment on how the saxophone is still much louder than the electronics and voice. That's something to improve upon for the next show. This one was such a success compared to the Haverford Fest; we're all feeling pretty good after this one!
7/25/10 @ Haverford Summer Music Festival
posted by Kelly 7/26/10
Our second show after a brief hiatus was at my house in Jamaica Plain in one of the side yard. Stan's work schedule was so crazy we couldn't book anything for May or June but we were still able to rehearse periodically and work up a new song starring saxophone multiphonics!

Haverford Fest started at noon that day with four bands back to back. Black Planets (jam band) opened the fest, SlowPnTurtle (reggae band) followed up with some nasty dub step then All of Us was on third, just in time for the rain clouds to roll in! DARN!!

My amazing neighbors at the fest were nice enough to pitch their camping tent over our stage so that the show could go on despite the conditions. Marty and Cecil were putting back beers all afternoon prior to showtime so setup was hectic to say the least. It took 40 minutes to get everything ready, with many of my friends sitting in the light rain waiting. What a mess.

I won't sugar coat this: NOTHING WORKED. We opened with "Getting Happier" but that only lasted until Cecil started the bass line but the looper wasn't working. Tried it again, Marty laid out such a nice groove but Cecil couldn't get the looper to work. And he lost his temper to make matters worse. My neighbor's little girl was in the audience so I had to pull Cecil aside and tell him to keep it PG.

We decided to give up on "Getting Happier" and have a go at the new multiphonics tune, not yet named. I engage the click and nothing is coming out of the earbud. NOTHING! Ableton cannot synch up loops without a click track to reference tempos so we were stuck. Since there were so many of my friends in the audience wondering if this was a joke that 15 minutes of the show had passed and nothing really happened yet, I freaked out and recorded the sax loop without the click. It actually worked, until Marty tried to record a drum loop over it but it would just hiccup (end of the loop slower than the beginning) because of no click. Scratch the new tune too. Strike two!!

At least "Garbage Patch" would work, because we practiced that song for hours in rehearsal last week. It HAD to work. HAD to. After loading the Live and Reason sets, I started up the click and Stan started with the bell intro. Perfect, except for when the mobius looper failed to loop the bells. No mobius, we had to just end our set. Enough is enough, and it's raining. Sorry to everybody that came out! My neighbor's seven year old daughter seemed to like what she saw, so much so that she said I was a good actor. Not sure what she was talking about, but I appreciated her nice compliment anyways.
4/15/10 @
Oupost 186
w/
Colin Stack
and Stonetones
posted by Marty 4/18/10
Our very first performance, I'm not that kinda guy to get the jitters but sometimes my nerves get the best of me. Like my first kiss, a few years back. The other fellas were excited more than I was nervous, maybe it's cause this is the first time performing on my little nanopad drum set. No big deal, though.

Our first tune was an instrumental called "Getting Happier." The hardest part for me was lining up with Kelly on the kicks, which went pretty well, if I must say so. Stan's monome solo was pretty different, not so much as what he'd been playing in rehearsal but it could have been worse. Like the December blizzard last year.

"Garbage Patch" went over very well, this one we rehearsed the most of the whole bunch. It's great how passionate Kelly and Stan are about getting the word out about all the darn plastic floating in the ocean. Most folks probably don't know about it. I didn't know anything about it but you're darn tootin I do now. I've also told my mom and some of my bingo friends about it too.

Our last tune "Dramatic Pictures" went o.k. but I kinda messed up the longer beat over the second part. My mistake, but you can be darn sure I'm gonna practice hard so that doesn't happen again. You're darn tootin. Not a bad first show though. It's a start, and as my mom told me the other day, "you have to start somewhere Marty." She's right, you know.

I really enjoyed the other two bands. Colin Stack has his own thing going on so I purchased a CD of his because I liked it so much. I was gonna buy a Stonetones CD but Rick Stone said they didn't have a CD out yet. A lotta guys that could play that good would have several CDs out, but he said it was a new band. I guess we don't have a CD either, but we're not that good yet either. I wouldn't buy our CD just yet. Maybe in a year, I don't know. So we'll just have to see then?