Welcome to our Video blog, where Kelly writes about his experiences organizing, traveling, filming and interacting with the people that act in our videos.  
9/3/12-9/7/12 Grand Rapids, Minnesota video shoot
posted on 9/20/12 
I had originally picked Ashby, MN for Marty's hometown but when I realized I was actually going to travel to each of the character's hometowns to film, I had to make sure each location made sense to film in. I wanted to have a town or city that had enough resources where I could find actors to participate. Grand Rapids, a city of 10,000 people, has a college and a community theater, plus a decent downtown with restaurants, shops and cafes that I could work into some scenes. It's also a big resort town because of all the surrounding lakes and forests. Ashby was too small with a population of only 500 people and hardly any of Grand Rapids resources, beside the lakes.

VisitGrandRapids.com is the website where I found my first contact, Sam Grigsby from the Grand Rapids Players Theater. Sam was very helpful from the start, agreeing to participate and even offered to borrow a fishing boat for the fishing scene. He also helped me contact people involved in the Players community theater that had a Facebook page where I was able to line up actors to perform the roles of Marty's mom, friends, coworkers, musicians and community actors that he works with. With an eight scene script written, I flew out to Minneapolis, rented a car and drove 3 hours north on route 169 to Grand Rapids.

Upon arrival Susie Mogan, Marty's mom character, made me feel immediately at home by inviting me to a cookout at her house on Sugar Lake. Her house is built on a beautiful and private waterfront plot next to the Sugar Lake resort; this was the perfect setting to have as Marty's home! After the cookout, I met up with Sam Grigsby at Applebees to discuss the scenes we're going to be shooting the next few days.

Sam was so kind to take the next day off from work and borrow his uncle's fishing boat for us to fish on out at Trout Lake in Coleraine. I used to fish up at the lakes in Maine, but never on a boat with a fish finder and trolling motor; this was the real deal! The finder not only told the depth the fish were swimming at, but also roughly how many there were. It was almost cheating, but the finder didn't catch the fish for you.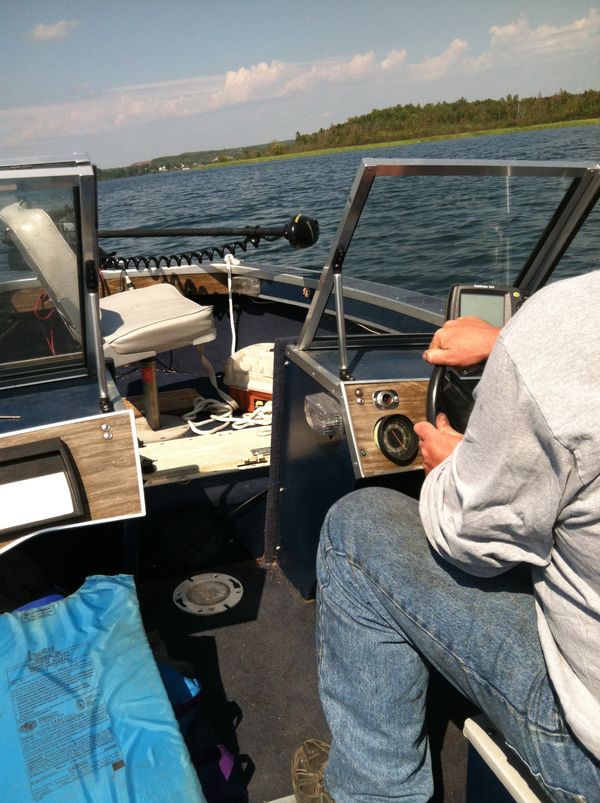 Notice the fish finder by Sam's right hand, the trolling motor across the bow and the life jacket we were too cool to put on. Marty wore his though!
With two quarts of crawlers for bait, we fished straight for about an hour in search of a nice walleye. Sam didn't really care if we caught anything because he was just happy to be out on the water. He told me that the worst day of fishing is better than the best day at work. It wasn't about catching anything, but it was good to be catching a few small perch an hour for footage on Marty's video shoot.

I'm really glad that I brought the Olympus LS-10 digital recorder to record higher quality audio because the wind out on the lake was blowing into the camera mic and distorting the sound; the audio files from the camera were unusable so it pays to bring backup! After about 3 hours on the lake with no fish big enough to keep, we headed in. It was a successful filming day though, with plenty of takes of each line and shot. Sam dropped me off at the hotel where I prepared for the Grand Rapids Players scene later that evening.

Just north of town next to Crystal Lake, the Players built a rehearsal/storage building where all their rehearsals and meetings take place while performances are at the Reif Center at the high school. Pictures of casts from all of the shows going back 15-20 years hung on the board room walls; it was inspiring to see all the history behind the organization. I was so lucky that the Players were open to putting Marty into the cast of the show being currently rehearsed, "Closure, A Veterans Inner Skirmish," written by the Players own John Schroeder. "Closure" deals with the issues of PTSD many veterans face today. It was a bit daunting to ask the playwright both if Marty could both step into his lead role as John C. Hall and if it's alright to rewrite a section of his script for the video; John was very easygoing and seemed entertained by it. I'm sure it helped to have him as one of the actors for a few of the video scenes.

Before the shoot, I sat through an hour and a half rehearsal observing the early stages of the "Closure" production. The actors were not quite off reading their scripts yet so it was interesting to see the process of memorizing lines. When the time was ready to start filming I realized that the scene I was going to be shooting involved the kids in the cast and I didn't have consent forms from their parents! I was going to have to hope that the parents will be ok with this scene when I send the forms in a couple of weeks. Fingers crossed...

Working with the kids in the cast was a blast. Everybody got a kick out of Marty, which is exactly what I was going for, so the experience was very encouraging to me. Sam Grigsby played himself as the director of the play and Jeremy Anderson stepped in as the town historian for the Judy Garland opening scene. The only mishap of the evening was while packing up I had realized I forgot to throw candy at the kids at the end of the Players scene. This was supposed to be tied into the next scene to be filmed at Zorbaz, so the rest of the evening was spent back at the hotel rewriting the candy throwing Zorbaz scene. Oh well, it was for the best because the new script was a big improvement.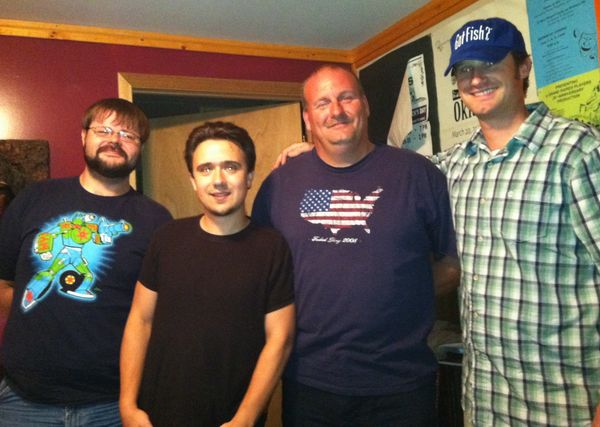 Some of the Grand Rapids Players members. From left to right, Jeremy Anderson, John Schroeder, Sam Grigsby and Marty
The next day was mostly dedicated to rehearsing for the Brewed Awakenings coffee shop performance with the 'All of Us' solo quartet. I was prepared for the show but that still didn't calm our nerves. Whenever we play a new room I'm concerned with whether or not the audience will get it. This especially has been the case since working with the new Yamaha SHS-10; it is much more difficult to see 'All of Us' as a quartet with four characters playing on the same instrument. Our full gear show are where we excel musically and conceptually. Oh well, "just do it," as Nike says.

I'm not going to go into detail about how the show went, but we got through it ok. The girls working behind the counter at Brewed Awakenings seemed to smile at first, then run away. We didn't seem to disturb the guy working on his laptop sitting in front so at least we're good at background music. Jeremy Anderson and Nathan Bergstedt came to check it out but I couldn't quite tell what they thought from the blank looks on their faces. Afterwards they both commented on not being able to understand Phil or Cecil very well so I had to have a chat with those guys about improving their annunciation during performances. It's tough when Phil has a severe stuttering problem and Cecil has a thick cockney accent that not many people can understand.

The Brewed Awakenings scene with Stephanie Schroeder and Ivy worked out well while the rest of the staff looked on in amusement (hopefully not annoyance) while they cleaned up to close for the night. The little costume accessories I bought for Marty's musical theater skits behind the counter worked perfectly, especially the Phantom of the Opera mask. Total creepiness.

Afterwards, John, his wife Stephanie, Jeremy, Nathan and I headed over to the VFW to listen to Sam Miltich and his gypsy jazz band rip it up. I originally contacted Sam to be a part of the video but he and his wife are busy with their newborn baby. I wish I had brought my saxophone to sit in with the band to cleanse my palate from the taste of the 'All of Us' set, but I'm glad nobody here knows my profession. It's a refreshing feeling to being able to meet new people and have them associate you with things you have little experience doing. Scary but refreshing.


After a few drinks and great jazz we headed to Zorbaz on Pokegama Lake to film the after-play rehearsal scene. Since I had to situate the camera on a tripod ten feet away from the table to capture everybody in the frame, the camera mic picked up more of the music then the actor's dialogue. The Olympus recorder came in handy once again because I could place it on the table and record all the spoken lines clearly with the close proximity. Wade Thompson, Zorbaz manager, also helped by turning down the music a bit. We were there for over three hours because this scene involved the most actors and different camera perspectives.

It didn't seem like three hours with all the fun we were having. Nathan was the perfect choice for a character that almost gets into a fight with Marty. His crazy bugged out eyes rivaled Marty's crazy bugged out eyes. John was great at playing the gullible wimp. I have to use these guys again for the next video!

The next and final day of shooting started at Susie's house on Sugar Lake. Since she takes tap dancing lessons I worked that into the script by having her and Marty jam. This will be one of the highlights of the video with the show Susie put on. As the script says, "what a hoot!" Even though the wind blew my camera over while shooting us fishing on the dock, everything else went quick and smoothly with the whole thing taking under two hours. I left feeling sad to not be seeing Susie for awhile because she was so good to me with her enthusiasm for the project and fun cookout hang.

Last but far from least was the scene with the Simple Guys music duo. I met up with Jim Cagle and Bill Adamson at Jim's driver's education school in downtown. I've never performed on Marty's Nanopad controller with a live band before so I was nervous about making beats that would work with their material. After rehearsing a few songs and getting a feel for what would work, we shot a bunch of takes of Marty playing too crazy and pissing off Jim and Bill. Having so much fun performing midi drum beats with real musicians (instead of midi loops) makes me want to actually pick up a drumset and start taking lessons. If only there was time. Jim's Minnesota Iron Range accent was AMAZING; he will have to have a bigger part in the next video.

To celebrate completing the Grand Rapids video I met up with Sam and his son Braydon at the Thunder Alley XL bowling alley for three games. Connor, one of Sam's sons, works at the bowling alley so it we received rockstar treatment. Sam is the coach of the high school bowling team and Braydon is on the team so I wasn't looking forward to getting my butt kicked by the both of them. I usually bowl about a 70 or 80 game but for some reason I was hitting in the 160-180 range and kicking their butts. I still think bowling is a game of luck:)
8/6/12-8/7/12 Bensonhurst music video shoot
posted on 8/15/12
Ok, it's go time. All I can do now is to be confident, know exactly what I want from each shot and go for it. The thing that is helping to calm my nerves are all the people involved. They're giving me their time, faith and energy into this ongoing story; it is comforting to have their support. My close friends Kendall Eddy and Charlie Mclaren are working the camera and acting in some scenes so it's very helpful to have the support of some close friends.

From experiencing how busy many of these businesses I'm filming in are, I should only take 5-10 minutes of their time to get my job done. The structure of a music video would be perfect because I can film a short clip for each line or two and make it work. Episode 5 is structured as a hip-hop music video where I've incorporated all of the participating businesses into a plot. Phil goes shopping for his mother who is throwing a party later that day. He has to pick up calamari, cannolis, catered antipasti, etc.

The first scene involves Kendall and Phil playing chess in Milestone Park, which almost didn't happen because of a severe thunderstorm that hit as soon as we finished up. There was a homeless man we were filming next to on the other side of the bench that was asleep throughout the entire scene. I'm glad he was asleep or he probably would have gotten annoyed with all of the repetitive line re-takes or my beeping metronome. I myself was getting annoyed with the metronome but I had to somehow keep the tempo of the backing track in order to lip synch to the correct time.

I met up with Charlie the next day and started off at Casa Calamari where I met up with Rocco the owner and his girlfriend. He cooked us up some fresh calamari for the scene and I got him to say his one line, despite being camera shy. I was surprised he was so camera shy since he's one of the most outgoing people I've meet in the neighborhood. He says that he wants to have his own TV to tell all the stories of being in the business. He wants me to come back for Thursday night karaoke to really get some stories, capture some characters for the next film.

Next we went to C&C Catering, where Charlie and I walked in the wrong door and got yelled at. My mistake, but the guy didn't know who were were so I would of done the same. He quickly softened up when we started filming the scene on the street in front of C&C. It was great to see the smile on his face as he watched me walk in and out of the door 20 times to get enough footage. People across the street just looked confused. I was originally going to use another catering company but the timing didn't work out so I appreciate C&C being able to accommodate me on short notice.

Tasty Bagels, on 86th Street, is home to the "Big Wheel Bagel" and Joe and his son Vinnie were anxious to have their sizable masterpiece in my video. These guys were nice enough to have a big wheel ready for the scene of Phil picking one up for his momma's party. After shooting the scene, Vinnie had some crazy stories about the 80's and how his father dealt with a crackhead that was disturbing business. Nice guys! I've gotta come back and write this down in detail, after Thursday karaoke at Casa Calamari, of course.

A few blocks away from Tasty Bagels is Panino Rustico, where Phil takes a break from running errands and orders a panini. The line in the song goes: "Rustico has the greatest paninis, the salmon and goat cheese is so dreamy." This was the easiest scene to shoot because all that Charlie and I had to do is sit down and eat 2 salmon and goat cheese paninis. I did research on Yelp to find the highest rated panini and the reviews were right on, those were some dreamy paninis. Louie, the owner, made sure we had a table to sit at for the shot. This place was not only a great place to film Phil taking a break, Charlie and I really needed a break too, since we'd been walking all morning in Bensonhurst.

"Last for something sweet, there's the best bakery down the street," ushers in the last scene to shoot for the day. Mrs. Zito at Rimini's Famous Pastry Shop was kind enough to also perform a line behind the counter. I loved her Brooklyn accent, this is why I had to go to the source instead of faking the scene in Boston. Rimini's pastry and cake display cases made for some of my favorite footage compositionally. Or maybe it's just my sweet tooth talking. Next time I've gotta get Mr. Zito and Caesar in the scene too, I had met them back in June and they were very welcoming.

Lastly I need to set up a time to film the scene with Phil's mother character. I met a lawyer from LI who grew up in Bensonhurst up in Boston. He talked about his high school acting experiences as some of the most fun he's ever had so that enthusiasm is the energy I'm looking for. Hope to have this all done by November/December if not sooner. I'll be sure to let you all know, thanks for reading.
Preliminary thoughts on Brooklyn video shoot
posted on 8/1/12
It's been awhile since I've been this nervous, but it makes me feel alive. Invigorated. For the first time in a long while, I'm not thinking about the end product, or why I'm doing this in the first place. All I can think about is not getting beat up, dressed up like a guido with the gold chain and slicked back hair walking around Bensonhurst with a cameraman filming my every move. Maybe this is why Hollywood films movies on sets with actors, versus filming in the streets interacting with locals acting the roles of themselves. We shall see...





6/25/12 Bensonhurst scope out
posted on 6/28/12
After settling on Bensonhurst, Brooklyn as the place where Phil Bianchi calls home, I spent about a month researching and contacting Bensonhurst businesses to see how many people I could interest in being in Phil's video. With no response through Facebook messages and emails, I decided it would be best to make the trip down there to introduce myself and talk to them in person.

With a tucked-in shirt, combed hair and shined shoes, I visited bakeries, pizzerias, restaurants and caterers to recruit actors and places to film. I felt just like a door to door salesman, only the people that I'm trying to sell the idea of acting to are trying to sell me pizzas and coffee. Plus, most places were busy with business so I had to be quick and not hold them up from doing their job. Surprisingly everybody was very nice and openminded to my idea. I guess in New York you see it all so this was par for the course.

At the end of the day I had 5 businesses that were on board and excited about being involved. It was really nice to be offered espresso and cannolis throughout the day, such friendly folks in NYC! It's weird to say that I now know more people in Bensonhurst by name than I do up in Jamaica Plain Massachusetts, where I've lived for 6 years.

The best part of my experience of the day was in mid afternoon when Italy beat Spain in soccer and the entire neighborhood erupted in celebration. 18th Avenue had an informal parade, as you can see in the picture below: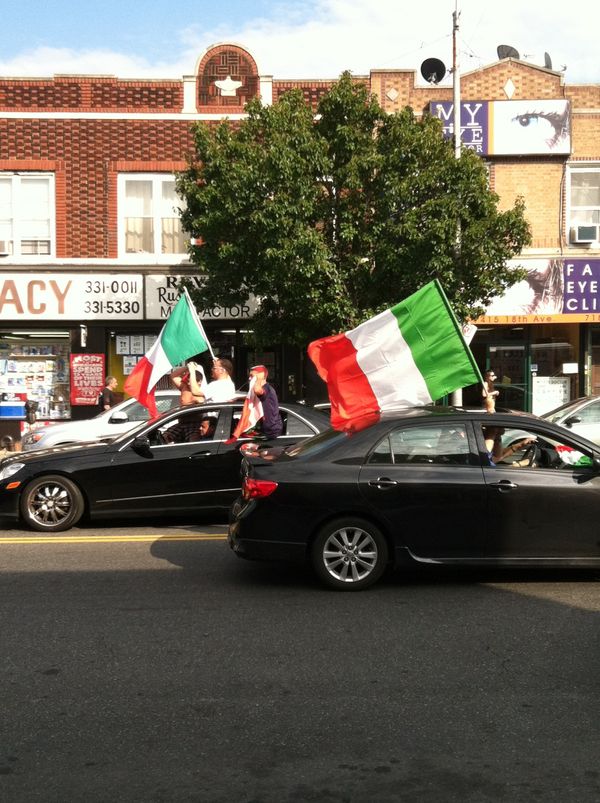 Yes, this is a perfect hometown setting for Phil Bianchi.



5/22-5/25/12 Albuquerque, NM Music Video for Episode 5
posted on 6/1/12

I have yet to go through all of the video footage that we shot last week in Albuquerque, but for the most part things went smoothly. The scene in the desert of all four of us approaching the camera from a distance is the best shot of the video. It'll especially look great when that footage is sped up 2-4 times regular speed. Since there were clouds in the sky, each of the skies from the four characters shots didn't line up so the tricky part will be cropping in footage of one sky across all of the shots so it will look consistent.

Ryan's parents, Stuart and Rosemary, were fantastic sports about being involved as actors. I feel really badly about Cecil coming on to Rosemary during the living room scene. It was such indecent and unprofessional behavior that I'm afraid I don't trust Cecil crashing at a friend or family's house while touring or shooting future videos on the road. Rosemary took it relatively well even though she kicked Cecil out of the house. Good for her, bad for him.

Due to the windy conditions in the desert, Episode 5 will be the first episode to have post-production sound on almost everything except the spoken lines of Stuart and Rosemary. In the middle of the desert, the wind must have been blowing 20mph across the mic so the audio was unusable. It's a blessing in disguise because the audio on the first four episodes have not been so professional with noticeable room noise; this will definitely be a big step up in quality. I'll be sure and let you know when it's finished and on-line, thanks for reading!